SDP-E Series
EtherCAT Servo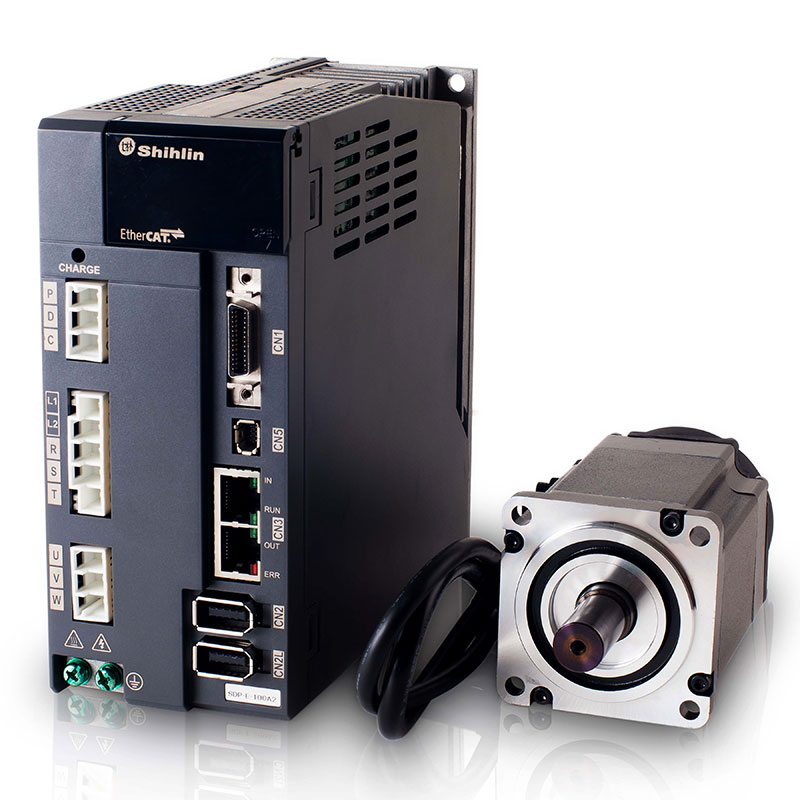 Shihlin SDP Series EtherCAT Servo Motor and Drive is the ultra-evolutional design motion control for advanced industrial machineries, the series is the 1st Taiwanese manufacturer certificated by ETG with the outstanding performance and features such as one touch tuning, friction and backlash compensation, electronic cam, and shortest communication cycle time in the industry.
Specification
Capacity: 50W ~ 7kW
Encoder Resolution: 24 Bit (16,777,216 pulse/rev)
Speed Response: 2.5 kHz
Automatic One Touch Tuning Function.
Automatic High / Low-Frequency Vibration Suppression.
Absolute Position System (Optional).
Friction and Backlash Compensation.
Motor speed up to 6000rpm and excellent torque output.
Safe Torque Off (STO) Function.
Electronic Cam Profile Can Be Planned up to 720 points.
The Fastest Communication Cycle Time at Minimum 100us.
Full-closed Loop Control.
EtherCAT certification.
Product Range

Files Download

---

For SDP servo in PDF(upload date:3/22/21)

---

---

V1.05 in PDF(Update:2022/6/7)

---

---

Files Download (External link)

Communication Software

Video

SDP on robot arm

SDP on PCB drilling machine

SDP and SE3 on polishing machine
Welcome to Shihlin Electric
Established in 1955, with interests in research and development in manufacturing as well as marketing integration, Shihlin Electric has grow our footprint from Taiwan into Global.
Recommendation
Advantage
Innovation is Our Policy

A leading solution provider in motion control and energy saving products from Taiwan. Our premium manufacturing quality and customer-oriented strategies make OEM / ODM technical cooperated with world-class...

Read More